Building a solid community online is all about being personable and relatable and interacting with your followers. Eighty-two percent (PDF) of people agree that social media is effective in getting more people discussing a good cause. Also, since Twitter and Facebook are the most-used platforms for nonprofits, it's necessary to know how to target people and leverage these platforms to strengthen your organization's community.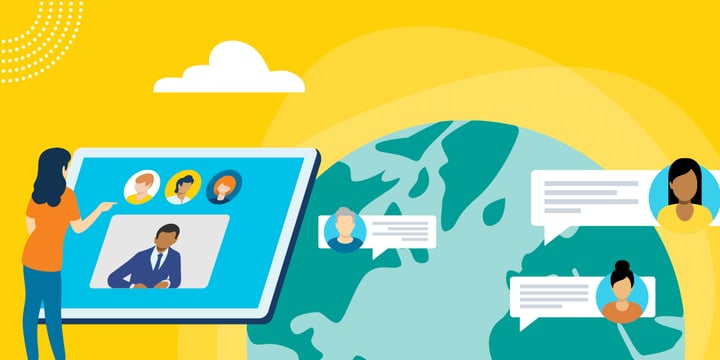 The first step is to properly understand your followers so your content is created with them in mind.
Followers will ask what benefits your nonprofit or charity can offer them, such as education and facts about subjects in your niche that make them want to share. So show how your organization is unique and why people should donate or spread the word around. This takes a deep understanding of your audience and good storytelling to know what to say to get them to share successfully.
But in order to tell a good story, you need to first build a strong online community that you are deeply familiar with. Here are a few steps to get you started.
Build Your Community by Identifying Influencers
Showing your community your value and authority in your niche means building a member profile and imagining how these personas think. Put yourself in their shoes by asking these questions:
What is their age and gender?
Location: Where do they live and work?
Occupation: Are they professionals? Students?
Values: What do they care about? Volunteering? Technology? Healthcare?
Habits: What do they do differently?
All this can be automatic with tools that tell you what your audience talks about at any moment. This allows you to target specific users in any way you please by joining their conversations. Then you can collaborate in ways like hosting "account takeovers," sharing testimonials and community successes, or maybe getting the word out about your organization's mandate. People love sharing their community involvement.
Building your community by finding influencers is fast when you use a search and explore tool. When you find users with custom keywords, location, audience size, and even keyword exclusions, you're able to curate the right people needed to make a lively audience. Do this by finding accounts similar to your following size, and when you engage with them first, they should do the same. Following the correct people in your niche is the fastest way to develop your community, especially if you have a small account.
Strategize Your Interactions
Once you've analyzed your audience and influencers in your niche, you need to interact efficiently and measure your progress in order to know the extent to which your community is growing. Contests are a great way to boost natural engagement and get your followers involved. Here are a few examples:
A retweet or reply-to-win contest
A caption contest for a photo where the most likes in the comments wins
A fill-in-the-blank contest around a trivia question.
Talking to your followers in a targeted and personalized way will also spark their involvement in the vast sea of online voices. This is easy to do with data-driven insights about your audience gathered instantly with content analytics tools. There are great options out there that allow you to build a community through precise audience data at no cost.
However you choose to interact, using hashtag suggestions is an excellent method to reach more users with every tweet. Most Twitter users use the platform for around three minutes a few times a day. So prioritizing when you post tweets will help aim your messages to as many followers as possible.
In addition, publishing platforms like Tweepsmap also analyze your feed and give you the data you need to increase your outreach automatically by optimizing your posting times. This way, if your goal is to raise awareness of your nonprofit or cause or to get the most from each tweet, you can rest assured that every post will target the most users each time.
Measure Your Success, Adjust Your Approach, and Continue Building
To effectively measure your progress, you need to become familiar with your engagement data. Then improve your strategy based on how your community engages with you. For example, if you keep giving your audience what they enjoy the most, they will continue to interact with you. Then, since Twitter favors high-engagement posts, it enables your organization to be seen by more people.
This data can be measured by looking at how many people click the links in your tweets. Also, impressions are a great way to measure your nonprofit's awareness by showing you if your content makes an impact on people. Likes show you right away if your audience enjoys the content, and retweets mean it was helpful or relatable enough to share with their followers. After you curate the right followers, these users will be more willing to engage with you and retweet your content since what you talk about is precisely down their alley.
A better understanding of engagement is about tracking your performance by recognizing and giving them more of what they like while being proactive with those curated users. Since 86 percent of social media users want to follow organizations on Twitter, it's the perfect platform for organizations to engage naturally and collaborate with the right users to expand their audience.
Much like community building, measuring your performance is quick and straightforward when your engagement data is curated for you. Analytics platforms like Tweepsmap give you the insights to focus on creating and engaging without needing to measure your metrics. This way, you can concentrate on posting shareable content like stats and facts about your organization's cause. Go further by also making tweets eye-catching with a free Canva template to engage your audience. After all, content with relevant images gets 94 percent more views than content without images.
We hope the steps covered above will better help you productively share your organization's mission. Creating a strong community means being familiar with their behaviors and interests to communicate more effectively than ever.