The environment is as fragile as ever. Humanity has witnessed animal extinction, ozone layer depletion, global warming, forest fires all of which could be slowed through strategic conservation efforts. The way man treats the environment and habitat requires targeted systems for sustainability.
In a bid to help restore the environment and ensure sustainability, organizations across Africa have sprung up to address conservation, climate and environmental issues.
These organizations work daily to respond to the challenges facing the environment to reverse engineer the damage done, and empower people to relate better with their environments.
In this article, we highlight laudable organizations working under this thematic area on the continent.
The Green Belt Movement (GBM)
The Green Belt Movement (GBM) is an environmental organization that empowers communities, particularly women, to conserve the environment and improve livelihoods. Founded by Professor Wangari Maathai in 1977 under the auspices of the National Council of Women of Kenya (NCWK) to respond to the needs of rural Kenyan women who reported that their streams were drying up, their food supply was less secure, and they had to walk further and further to get firewood for fuel and fencing. GBM encouraged the women to work together to grow seedlings and plant trees to bind the soil, store rainwater, provide food and firewood, and receive a small monetary token for their work.
The Green Belt Movement (GBM) has four main areas of activity— Tree Planting and Water Harvesting, Climate Change, Mainstream Advocacy, Gender Livelihood and Advocacy.
The organization has a vision of a values-driven society of people who consciously work for continued improvement of their livelihoods and a greener, cleaner world. It strives for better environmental management, community empowerment, and livelihood improvement using tree-planting as an entry point.
Green Africa Foundation was founded in Kenya in 2000 with a focus on implementing practical hands-on community driven projects aimed at greening the African continent. It is articulated through the Green Africa village concept where communities undertake a series of activities that result in sustainable environmental conservation and natural resource management, assurance of food security, policy dialogue and advocacy and social integration through peace building, ethical and moral probity.
To the organization, Green is in three folds: The First Green is to treat people kindly through upholding ethics and training on life skills. The Second Green is to promote good health, peace within communities and to create sustainable livelihoods. The Third Green is the actual environmental conservation.
The organization's strategic objectives:
To facilitate adoption of Green Africa Village models.
To promote economic activities for sustainable livelihoods.
To increase resilience to climate change effects through capacity building and policy advocacy.
To establish and enhance strategic partnerships in NRM.
To strengthen institutional capacity
3. The Health of Mother Earth Foundation (HOMEF)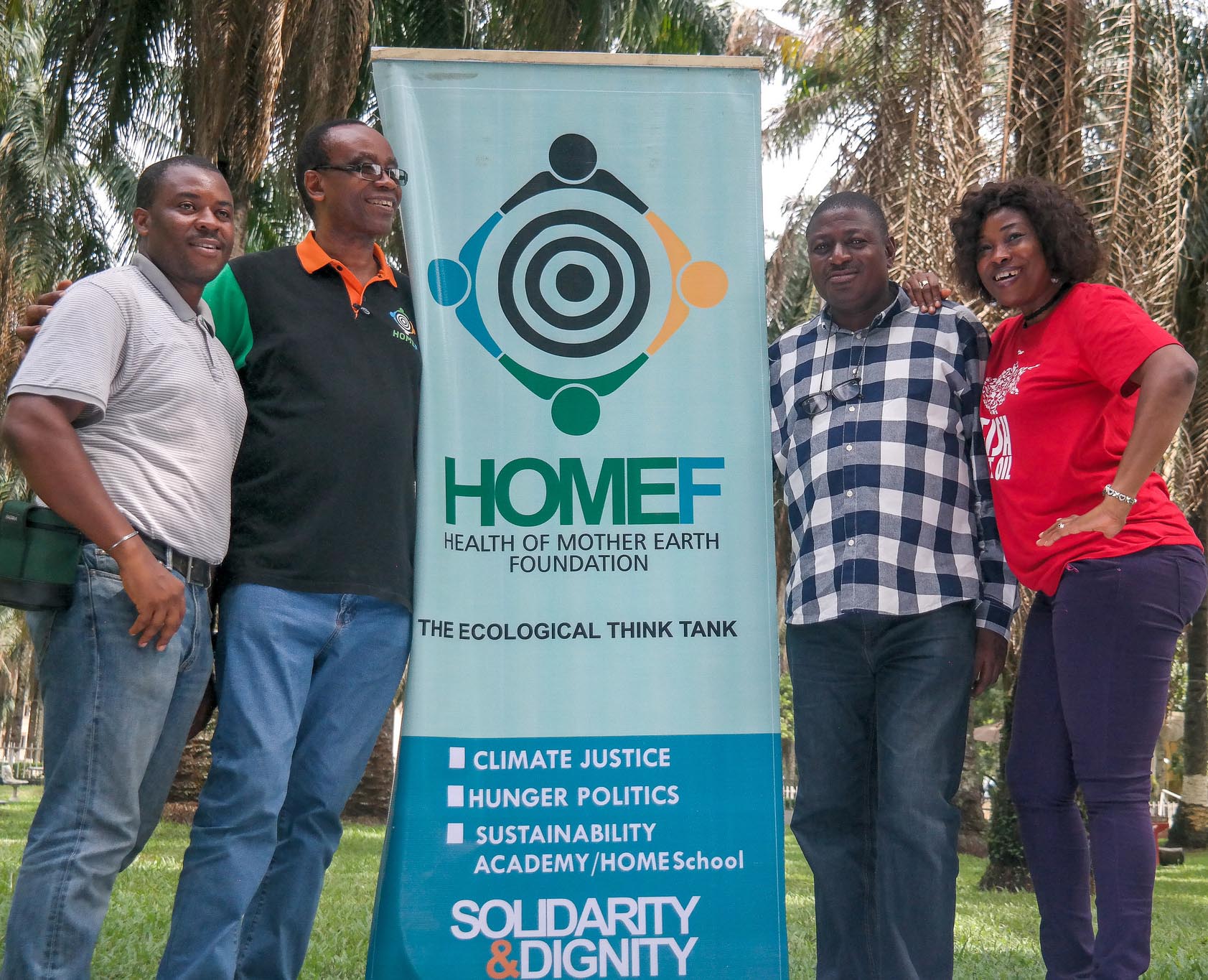 The Health of Mother Earth Foundation (HOMEF) is an ecological think tank organization advocating for environmental / climate justice and food sovereignty in Nigeria and Africa at large. HOMEF focuses on fossil politics, whose goal is to encourage people to shun the use of fossil fuel – an action that will enhance environmental protection.
HOMEF believes Exploitation of Nature reflects the unjust relations between people and the social, political, gender, economic, crisis in society.
Also, this organization runs hunger politics and Ikike. These projects seek to achieve food sovereignty and the protection of natural resources. Besides, HOMEF runs different advocacy webinars addressing current environmental and biodiversity issues alongside other publications.
The organization has several publications ranging from books, reports, Eco-Instigator, publications, and Annual reports.
4. Center for Justice Governance and Environmental Action (CJGEA)
Center for Justice Governance and Environmental Action (CJGEA) is an environmental/ human rights advocacy organization based in Mombasa Kenya working for the realization of environmental/human rights of the economically marginalized communities around extractive industries and toxic sites.
As an advocacy organization, CJGEA addresses the need for protecting communities from toxic and environmental pollution from extractive industries established in their neighborhood and informal settlement areas.
C.J.G.E.A is a grassroots nonprofit, non-governmental organization, founded out of a need to address toxic environmental pollution challenges, caused by extractive industries set up within poor neighbourhoods and informal settlements.
Over the past 5 years The Center for Justice Governance & Environmental Action (CJGEA) and partners, have successfully implemented the project entitled "Tuna Sauti" which has been central in amplifying the voices of the Owino Uhuru community in Mombasa to advocate for and access to clean healthy and sustainable environment and socio-economic justice.
CJGEA continues to work as the voice of the voiceless in creating awareness on climate change, carbon emission, and mitigation strategies.
5. The African Climate Foundation (ACF)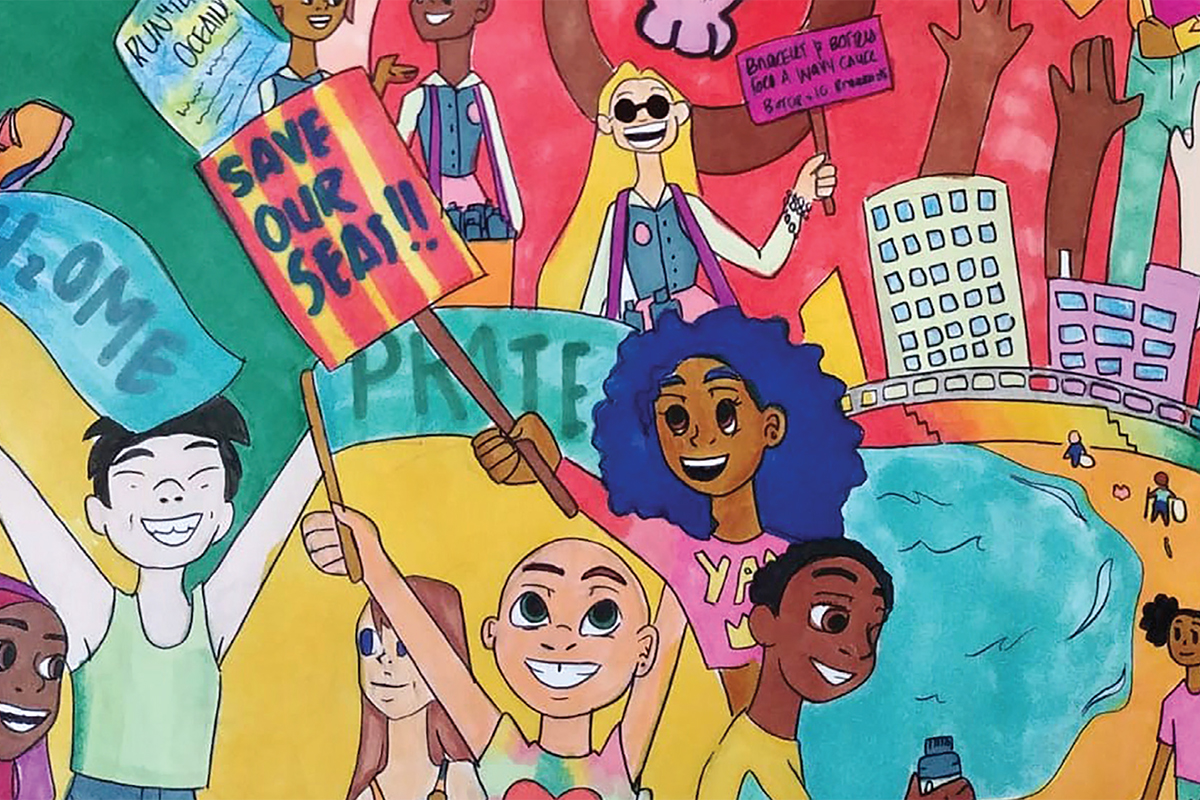 The African Climate Foundation (ACF) is the first African-led strategic climate change grant-making foundation on the continent. Building on the success of partner organizations like the European Climate Foundation and ClimateWorks Foundation, the ACF was established to provide a mechanism through which philanthropies can contribute to Africa's efforts to address climate change. As an African-led and African-based foundation, ACF is committed to supporting African solutions to the climate change challenges facing the continent.
ACF works closely with philanthropic organizations to identify strategic opportunities to support adaptation, resilience, and mitigation initiatives on the continent and to unlock new opportunities for sustainable development in Africa. It partners with Africa focused organizations working to address climate change and champion climate justice on the African continent.
The organization works in sectors that are key to unlocking long-term inclusive growth and development in Africa and that help to grow adaptive capacity, build climate resilience, and mitigate emission. ACF also works on interventions that traverse these sectors such as climate finance, digitization, infrastructure, industrialization, geopolitics, and climate diplomacy.
As we work towards achieving the sustainable development goals, we are more confident than ever that climate issues will be resolved and addressed through the work of these organizations, and others like these.
Is your organization working towards environmental restoration and would love to be featured on our website? Reach out to us here and let's spotlight you.
Original content authored by Philanthropy Circuit.